If you have read my blog for a while, then you have seen this recipe before. I am posting it again for a few of reasons. One, the picture on the original post is atrocious! Not that this picture will be winning any awards, but it is still better than the original!
Two, this is one of my favorite things to make during the holiday season and I wanted to share it with any new readers that may not have seen it last time! I made it with traditional M&M's, but simply use red and green holiday M&M's for a more festive look. It is easy to make, and looks great when packaged up in a little goodie bag with some decorative ribbon. Your friends and family will love it!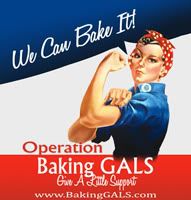 Reason three, and perhaps the most important, I included a big batch of this in a recent package that I sent out to a soldier stationed in Afghanistan, as part of Operation Baking Gals. If you have never heard of Operation Baking Gals, they are a group of bakers that team up to send goodies to soldiers stationed overseas once a month. I joined Jen's team, Team Beantown Baker, and we shipped to a soldier named Ryan. I was very excited to see that Ryan is actually a fellow New Englander from Maine!
I was honored to be part of this group and look forward to baking with them again in the future. On this Veterans Day, I want to thank all of the members of the military, past and present, for all that they do. Please consider checking out Operation Baking Gals and sending a package during the next round in December!
Holiday Hash
1 1/2 cups each Cheerios, Rice Chex and Corn Chex
1 cup each Pretzel Twists, Peanut M&M's, Plain M&M's and Peanuts
1 – 12oz bag White Chocolate Chips
Combine cereals, pretzels, both M&M's and peanuts in large bowl. Melt white chocolate chips and pour over cereal mixture. Working quickly, combine melted chips and cereal mixture. Spread out on waxed or parchment paper to harden. When hard, break into palm size pieces and store in airtight container.
Source: There are a million versions of this recipe on the internet, I got this version from my mom, who has made this for years!